Watch Video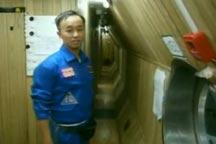 Play Video
It's been a month since six prospective astronauts stepped onto a ground-based spacecraft for a simulated flight to Mars. Chinese participant Wang Yue has given us a tour of their living space.
Each volunteer has his own room which they have decorated based on their own personalities. Wang Yue's room is rich with Chinese flavor. A photo of China's first astronaut Yang Liwei and a Chinese-style knot hang on the wall. He also has a set of Chinese calligraphy brushes, paper and an inkstone in the closet.
The final station of the tour is the control center where the crew members closely monitor the whole spacecraft.
Editor:Zhang Ning |Source: CCTV.com