Watch Video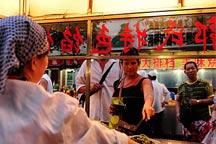 Play Video
One year after the July 5th Riot in Urumqi, the capital of Northwest China's Xinjiang Uygur Autonomous Region is recovering from the damage caused by the incident. Local residents are endeavoring to resume their lives and make the city a more peaceful and prosperous place. My colleague Xu Zhaoqun is there to witnesses how they make this happen.
Busy traffic, noisy downtown the operation of the city looks no different from any other major metropolis around the country.
Today's Urumuqi is again showcasing its characteristics of a shining pearl in the vast interior of western China.
This is Zhang Yanjun's first visit to Xinjiang. The Grand International Bazaar in Urumuqi is, of course, a place he can't miss.
Zhang is curious about nearly everything displayed in the bazaar, though he says he's not able to bring one of each item back home.
Zhang Yanjun said, "Generally speaking, the city looks nice. We know what happened last year. But it can't stop the city from going forward. It's so beautiful. Such a beautiful place deserves better development."
A prosperous and peaceful Urumuqi is, indeed, most people's expectation. But the patrolling armed police officers appearing on the streets every now and then remind us that the city holds sad memories of last year's bloody riot.
On July 5th, 2009, a small group of rioters attacked innocent people, burned vehicles, and smashed shops. Nearly 200 people were killed.
The riot has brought severe negative impact to the city, and the entire Autonomous Region. For a short while after the riot, most shops in the city center were closed, and people were just too scared to walk outside at night. But the rioters and their supporters may be a bit disappointed if they see what's happening now in the city. Erdaoqiao is Urumuqi's oldest market, with a history of more than a hundred years. Let's see what the people here think about the current situation.
smiles at every visitor approaching her small shop in the market. Her business is not as good as it was a year ago. But she's confident things will get better as time goes by.
Zoukra, shopowner of Erdaoqiao market,said, "I have to say there are fewer buyers, especially those from other provinces. The market is not that crowded. But this is much better than a year ago. A fewer buyers are better than no buyers. I won't quit. I'm sure it will become even better in a few months."
Liu Wenxiu is a Han native born in Xinjiang. She's used to the life of running a small business in a Uygur market. The outgoing woman seems to not worry at all about the safety of herself and her business.
Liu Wenxiu,shopowner of Erdaoqiao market,said, "I'm getting along with all the other people around me, no matter what ethnic minority they are. I was born here, I grew up here. I'm just a person who belongs to Xinjiang."
During the past year, a series of policies have been launched to stimulate the local economy and maintain the people's well-being. Aid from the rest of the country is also arriving.
As one local citizen says, the pain is not forgotten, but the wound is being healed.
Editor:Zhang Ning |Source: CNTV.CN