Watch Video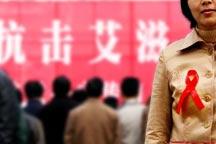 Play Video
Activists, government leaders and HIV positive people. For the first time ever, they met today in what's already being billed as a historic turning-of-the-corner in China's fight against AIDS. At the Red Ribbon Forum in Beijing the country's leadership showed leadership... but, as we seen now, it was a chance to listen to the people who are living with HIV.
Like any parent, Thomas wants the best education for his children. But this Chinese father happens to be living with HIV... and he knows that if his health status goes public, he and his family could be the first to lose out.
That's called stigma and discrimination. And if finding out he was HIV positive was one shock, the reaction around him was quite another...
HIV positive person Thomas said, "The doctor who diagnosed me was my high school classmate. He told all our classmates about my result. I lost all of my friends."
In last year's China stigma report, 41% said they won't work together with an HIV positive person. 47% said they won't eat together.
You can't get infected by sharing a table.
But all these people were infected with 'progress' when, on Monday, government leaders and civil society representatives met for the first time at the first ever Red Ribbon Forum.
It was official it was with respect and dignity and there was one goal to channel China's AIDS challenge through what they all agree is 'human rights'.
The right to live was the message of Premier Wen Jiabao when he shook the hands of HIV positive people and, by that one, simple act, shattered the silence for good.
That journey continued today.
Former Vice Health Minister Wang Longde said, "It takes a long time for a person to build bias. It takes an equally long time or even longer to correct that. The same applies to AIDS in China."
Meanwhile, back in the main hall, honest questions were being asked.
And not everyone agreed. But, for the people living with the virus itself, it was a chance to tell their realities not of what life should be but what it really is.
Mark Heywood, section 27, South Africa,said, "When you persecute people living with HIV, you drive them underground. They won't come round for testing. They won't even know their HIV status. So, there's a much greater risk that I'll be having sex with an HIV positive person who doesn't know their status and that risk becomes real to me."
The Red Ribbon Forum will meet at least twice.
That, and a new head of China's UNAIDS office, and you can see why the response here is being 'positively' transformed to a disease that's transformed our world.
AIDS is headed for a shakeup.
Editor:Zhang Ning |Source: CCTV.com