Watch Video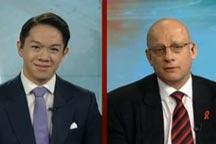 Play Video
Steve Kraus is the new head of UN AIDS Asia-Pacific and he's here with us from Bangkok.
Q1:Steve, a historic day. But is the outcome from the Red Ribbon initiative likely to make the lives of our HIV positive friends that much better?
Q2:Great strides have been made in China in its fight against AIDS, but tell us about stigma, why does it persist so stubbornly. Surely, it has to do with more than just information?
Q3:Looking wider. In 2 weeks, 25,000 people will be in Vienna for the International Aids Conference. China is no longer a follower, but becoming a leader. How could it best use Vienna 2010?
Editor:Zhang Ning |Source: CCTV.com