Watch Video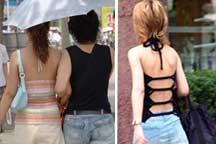 Play Video
Most parts of China have been undergoing a heatwave with temperatures reaching more than 38 degrees Celsius. Beijing, the south and central of Heibei province, the northwest of Shandong province and the north of Henan province are the hottest places with highs reaching over 40 degrees Celsius.
With little cloud in the sky, the hot sun has been shining directly down on the streets of Beijing.
Monday's air temperature reached 40.3 degrees Celsius, which is a record temperature for this time of year.
On the ground, it's even hotter.
Put down an egg, 3 minutes later, it's 70 percent done. The ground temperature is nearly 50 degrees.
High temperature warnings have been issued across the country. In Guangdong Province the heatwave has lasted almost a week and is expected to continue for another week.
In Nanning, the capital city of Guangxi Zhuang Autonomous Region, residents covered themselves with umbrellas and hats, arms have to be protected while riding a bicycle.
In East China's Shandong Province, many people choose to cool themselves in supermarkets and shopping centers where air conditioners are on.
Some supermarkets have prepared free cold drinks and medicine for heat stroke.
Construction companies have readjusted their working times to allow staff to avoid working when the sun is hottest. They start early in the morning and take long hours of rest during the afternoon.
Hot weather has made the hospitals very busy.
In Hong Kong, more than 100 elderly people have been hospitalized during the past several days for heat stroke.
Many people are catching colds because of going between the hot outdoors and air-conditioned rooms.
Too many cold drinks and ice-creams are also causing digestive problems.
Experts and doctors advise drinking more water and eating more fruit and vegetables, for children and senior citizens and patients with cardiac problems, it's better to stay inside.
Editor:Zhang Jingya |Source: CCTV.com