Watch Video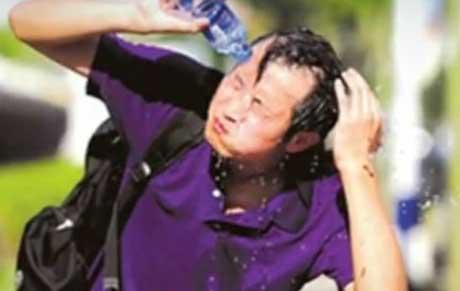 Play Video
A heatwave is sweeping across China, as if baking the whole country in an oven. A bus self-ignited this morning in Beijing's Chaoyang District. Thick smoke rose up from the vehicle. Luckily, no casualties were reported.
The most likely culprit behind this was the scorching heat. Tiananmen Square is usually bustling with tourists. But because of the unprecedented temperature of 43 degrees Celsius, the Square experienced one of its quietest days. Even the shade from a lamp-post is a saviour for tourists trying to ward off the blazing sunshine. A pedestrian in Beijing cannot resist pouring a bottle of water over his head to cool himself down.
From North to South, no place seems to have escaped the scorching heat and water has become the panacea for the high temperatures. In Northeast China's Liaoning Province, a child was playing in a public fountain, while in Southern tip of Hainan Province, people just bathed themselves in the river. Iced watermelon and juice are not just human's privileges. In Xiangjiang Zoo, Guangzhou, chimpanzees wolfed down watermelon and a panda just sticks to a glass of iced juice.
Editor:Zhang Jingya |Source: CCTV.com