Watch Video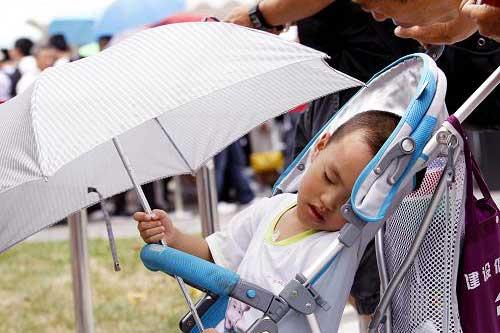 Play Video
With the arrival of the city's annual rainy season, weather conditions at the Expo Park change constantly from blazing heat to thunder showers. But organizers have taken steps to help visitors enjoy the park in any weather.
In order for visitors to better plan their trips, local meteorologists are offering a special report on the weather conditions inside the park. Before setting off for the site, visitors can log on to www.soweather.com to check out the perceived temperatures and humidity in the park.
Weather forecasts are available four days in advance in both English and Chinese. The site also has plenty of places to get a little shelter from the rain or heat if necessary.
Sun Yan, ICS News, said, There are a lot of elevated passageways in the expo park like this one. Under them are often areas for people to take a break after walking long distances. And if you look up, you will find a lot of faucets which in hot summer days will offer small drops of water to help cool down the air.
Chen Ruochun, said, I feel it's much cooler here than outside. Although there's a lot of traffic, the air flow is good and it's not stuffy at all.
The sunshades in the park have small fans offering a small breeze and water drops. And one of the most popular attractions in the park was designed to keep people out of the rain..or sun.
Sun said, The Expo Boulevard is a very popular place in the park. Its design shelters people from extreme weather conditions without missing the view outside. While waiting for the weather to clear up or the heat to subdue, visitors can shop at the souvenir stores here, or simply have a cup of coffee.
Editor:Zhang Jingya |Source: CCTV.com