Watch Video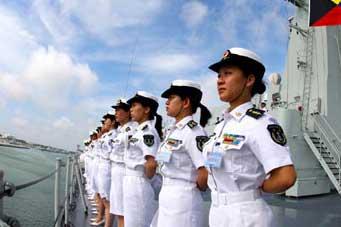 Play Video
After five days' of sailing, the 6th Chinese Naval Fleet making for the Gulf of Aden has arrived in the Strait of Malacca. There, the fleet conducted the first supply mission on distant waters.
The amphibious landing ship Kunlunshan, the largest of its kind in the Chinese navy, and the destroyer Lanzhou met the supply ship Boyanghu in the Strait.
When the Kunlunshan was parallel with the Boyanghu, sailors threw the running lines to the Kunlunshan. At the same time, the speed and direction of the ships are under close monitor. An oil hose reaches the Kunlunshan for re-fueling.
Wei Xueyi, Formation Commander, said, Because of safety concerns we have detailed plans. The process is as smooth as it could have been.
The sixth flotilla is relieving the fifth one which has been cruising the waters off the Somali coast for more than three months.
The sixth fleet conducted a drill earlier this month in open waters in the Gulf of Aden, using live ammunition. The fleet maintains a presence in the region to safeguard commercial shipping vessels through pirate-infested waters.
Editor:Zhang Jingya |Source: CCTV.com