Watch Video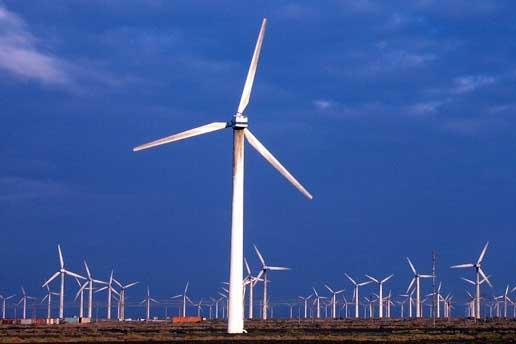 Play Video
For the last ten years, southwest China's Guizhou Province has been at the forefront of the country's energy industry. As part of the government's plan to develop the western regions, Guizhou is gearing up for the next stage in energy development.
Two giant wind turbines have been set up in Hongyang Meadow in eastern part of Guizhou Province. They are part of a trial wind power project that began in April.
Kou Dawei, Engineer, Taijiang County, Guizhou Province, said, The wind speed here reaches seven to eight meters per second. Each of the two windmills is capable of generating 800 kilowatts an hour when in full operation.
If the project is approved, 62 more turbines will be installed, with a total output capacity reaching 150-thousand kilowatts.
The wind turbines have also sprung up in the cities of Bijie and Liupanshui. Experts estimate the province has the potential to produce two million kilowatts of wind power. Power that can be transformed into cheap and clean electricity.
Kou said, Guizhou has a lot of hills and gorges. Wind is intense and strong in those places. In addition, our country encourages developing new forms of energy. So I'm very positive about the project.
Wind turbines used to be a rare sight in landlocked Guizhou Province. Now, they are a priority item within Guizhou's energy development project for the new phase of Western China Development.
Making full use of the province's rich water and coal resources, Guizhou Province has taken a lead among western provinces and regions in converting its energy advantages into economic benefits. Energy has become the backbone of Guizhou's economy.
As many other energy-rich provinces and regions are striving to exploit renewable resources, Guizhou has taken the lead.
And wind power is not the only item on Guizhou's to-do list. In Liupanshui, a coal chemical project worth of 5 and a half billion yuan has just been completed. It is able to produce six hundred thousand tons of methanol, a major substitute of petroleum each year.
Wei Yongzhu, President, Guizhou Shuicheng Coal Mining Co., Ltd, said, A ton of coal only sells at five to six hundred yuan. But if it is put through chemical processing, the product can be sold at more than two thousand yuan. It's very important that we make full use of the natural resources and develop value-added products.
With the promising prospects of methanol, the coal chemical processing industry is thriving in Guizhou Province.
Guizhou is now unveiling its blueprint for its energy industry, aiming at renewable resources to obtain sustainable development.
Editor:Zhang Jingya |Source: CCTV.com