Watch Video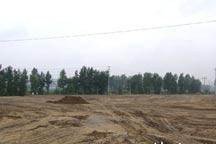 Play Video
Hoarding is just one of the reasons for the idle land in Beijing, while others are caused by an inefficient approval process from the local government. While others still are not developed due to a lack of capital or resettlement issues.
This place is less than one kilometer away from Beijing's busiest commercial center of Xidan. The mess inside these walls creates an obvious contrast to their surroundings.
Local residents say they have been working in such an environment for over 8 years.
A resident said, "It's like a dump, kids are growing up in such surroundings."
"Rain water was leaking in, there are cracks on the roof."
Over 5,000 households were living here before the resettlement process started in 2002. Several hundred homes still stand as many owners have yet to reach a resettlement agreement.
The developer planned to build 60 residential buildings, but only 4 have been put up amongst the demolished or semi-demolished structures.
Liao Yonglin, vice director of Ministry of Land Resources, said, "The longer it takes to resettle residents, the more complicated the issue gets. The local government will sit down with the developers to deal with the residual problems, and either force them to begin development or take it back. "
The problem of idle land is quite serious across the country. Some experts believe it has influenced the property market, pushing property prices higher. Many are now calling for an immediate solution to all undeveloped land.
Xu Shaoshi, Minister of Ministry of Land Resources,said, "We are doing research on the idle lands, and will present a solution for the ones caused by local governments. "
Minister Xu says he believes things would be clearer next year.
Editor:Zhang Ning |Source: CNTV.CN