Watch Video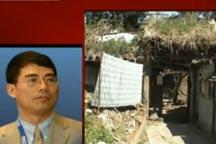 Play Video
For more on the effects of the idle land and possible solutions, we are joined on the line by Mr. Mo Tianquan, Chairman of Sofun.com.
Q1: What do you think are the main reasons for so much idle land and what negative impact has it had on the property market?
Q2: What do you think the government can do to solve the problem? Forcing the developers to start work on the land?
Related:
Developers profiting from idle land
Two months have passed since the State Council released regulations that tightened the property market. They put a stop to skyrocketing prices, discouraging some developers from buying land. Full Story>>
Dealing with idle lots
Hoarding is just one of the reasons for the idle land in Beijing, while others are caused by an inefficient approval process from the local government. While others still are not developed due to a lack of capital or resettlement issues. Full Story>>
Editor:Zhang Ning |Source: CNTV.CN