Watch Video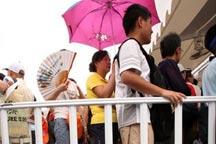 Play Video
For those who want to visit the Expo, don't feel daunted by the scorching heat. Here's some tips to keep cool at the park.
With the temperature rising these days, expo visitors are finding their own ways to keep cool. And the expo park has also prepared for the hot weather.
For many visitors, there are times when the technology at the Expo park doesn't get any better than this. From time to time, these devices spray cool air and mist around the park...along the elevated walkway...the expo Boulevard...and also around the long lines outside the pavilions. That's especially welcome for people waiting outside the Saudi-Arabia Pavilion. Many visitors here have to stand in the heat for hours.
Visitor Xu Yue said, It's good that they provide ice.
Visitor Wang Moran said, The spray system makes it more pleasant waiting here. And another popular spray system is at the celebration square outside the expo culture center. It turns on when temperatures get really high.
Visitor Wang Meifen said, The temperatures are much lower inside the square.
Half of the expo park is made up of green space. Lying down on the grass under trees can give you some relief from the hot summer weather. And because the gardens are all located along the river, gusts of wind from the Huangpu cool down the area. Some pavilions are also using their own ways of cooling visitors down.
And when you walk through the mist at the entrance to the Norway Pavilion, you almost feel like you're walking in a forest in autumn. There are also waterfalls and rivers inside the pavilion.
Visotor Wang Meifen said, You don't have to wait for a long time to get inside the Norway Pavilion. Like today, I just waited for 30 minutes. So its worth coming in such a hot day.
And if you want frozen water, head to the Austria pavilion. You can throw snow balls, and feel like you're playing in real snow. Another place that's worth visiting on a hot day is the Liechtenstein Pavilion. There's hardly ever a wait... and inside, visitors can lie down and enjoy the view of the snowy alps.
Editor:Zhang Ning |Source: CNTV.CN