Watch Video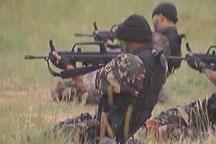 Play Video
Moving on to northwestern China where China and Pakistan are continuing a joint counter-terrorism military drill.
Monday's exercise shifted from physical training to situation-based anti-terror practice. As our reporter Wang Guan finds out, this joint exercise is not just a showcase of good-will,but a serious effort in strengthening each other's capability to fight terrorism.
Day three of the joint training and the heat is picking up.
Soldiers from both countries are going all out to fulfill 31 tasks in situations they may encounter in a real anti-terrorist strike.
Sometimes, they march in deep water to search for enemies in ambush.
Sometimes, they go over cliffs and crossing a seemingly un-crossable trench to go after terrorists hiding in the mountains.
And sometimes they fall into the sea or a lake. They lift heavy ammunition boxes to keep in their mock battle.
Li Fuhua, Captain of the Chinese Team, said, "They have to fulfill these situation-based tasks. This is unlike previous exercises where we focused largely on fitness and physical coordination. This training is very practical."
Practical training is one of the biggest features of this year's exercise.
That is in a large part thanks to the Pakistani soldiers.
Most of them are in their mid-30s and some are well over 40. Many have over seven years of experience in fighting the Taliban and Al Qaeda.
The average age of their Chinese counterparts is 22. The Chinese soldiers' flexibility, discipline and technical proficiency impressed them greatly.
Captain Sher Khan, Pakistan Army, said, "Our trainings don't have that much skills involved. We don't have the speed that you are having. Our training is more oppresion-oriented. The soldiers were at the battlefield and they are coming right from the battlefield."
Skills versus experience.
Having different strengths mean the two sides can complement each other and benefit from the joint exercise.
And they are doing just that.
Officers trade experiences in how to strategize and map out tactics while rank-and-file soldiers discuss basics such as how to load bullets faster.
The joint military drill has practical significance for both countries. For China, it is striving to maintain stability in the country's northwestern region, which accounts for one sixth of its territory. For Pakistan, it is the constant fight against terrorist forces in the country's north.
This time the exercise took place in Ningxia Hui Autonomous Region. Its mountainous terrain resembles the China-Pakistan border regions where separatist and terrorist forces are active.
Editor:Zhang Pengfei |Source: CNTV.CN