Watch Video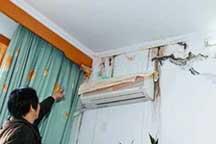 Play Video
Days of heavy rain have caused leak in the roofs of many homes in Wuhan, capital of Hubei Province. A group of repair workers from Anhui province have been busy helping citizens fix their houses.
The repair workers arrived here in the early morning to wait for business.
It is going to be a busy day.
A repair worker from Anhui, said, " What is the address? Minshen Road, Hubu Ally, Ok, I need to check first and decide how to repair."
Dai has been working in Wuhan for 3 years, leaving his wife and children in his hometown in Anhui province .
The heavy rain can help Dai and his coworkers find where the leak is.
Dai said, "We have more business with greater rain, if the rain is light, we get less business."
This house in Hubu Ally is in very bad shape, rain water is dripping down from both floors.
To find the cracks is not easy, especially on such a rainy day. The tiles become very slippery.
Dai found three leak areas on the roof and wall of the house.
Only simple treatment can be done as it is too wet to start repair work. Usually they set a time for repairs after finding the leaks.
While repairing homes for residents in Wuhai, Dai and his co-workers live under the Yangtze River Bridge. Their living room is a tent and the vans are their bedrooms.
He said, "We live under the bridge in the van, we made a bed in it. If we rent a place, we have to worry about our van and we can save a few hundred yuan living here. "
After a brief lunch in the tent, Dai and his colleagues go out again as heavy rain brings the best opportunities for finding problems with the houses.
Editor:Zhang Jingya |Source: CNTV.CN