Watch Video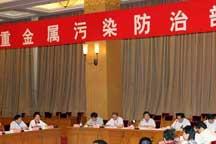 Play Video
China's Ministry of Environmental Protection says the regulations on heavy metal pollution disposal have been basically worked out. Five categories of heavy metals are the main ones being monitored, plumbum, hydrargyrum, cadmium, chromium and arsenic.
13 government departments and 14 provincial governments have been working on the the regulations for the past six months. The Ministry of Environmental Protection says the disposal of heavy metal pollution is included in many of the documents the central government is dealing with.
Zhou Shengxian, Minister of Environmental Protection, said, "We have been trying to work out the regulations as fast as possible because they're related to many people's health."
Zhou says the comprehensive evaluation of every government official and company leader will be related to their achievements in the disposal of heavy metals.
Zhou said, "The leaders should take responsibility for pollution prevention. For those who can't reach the standards in this field, there will be penalties."
The Ministry of Environment Protection says that by the end of 2009, more than 9,000 enterprises were found to be using the five main categories of the heavy metals. Out of those a quarter were violating environmental protection regulations.
Editor:Zhang Jingya |Source: CNTV.CN