Watch Video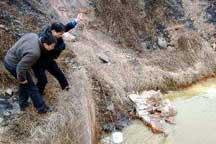 Play Video
As one of the solutions to pollution, the electroplating industry in Hebei Province is planning to relocate small-sized factories. This means owners have to move their workshops to newly-built larger factories.
This is the largest market in China for bicycle parts production and selling. There once were dozens of small electroplating factories to support it within a less than a 50-square-kilometer area.
Yang Xianchun, Chief, Pingxiang county, Hebei Province, said, "Electroplating is an important part of bike production. 7 or 8 parts of a bike need to be plated. The electroplating industry started to rise in the 1980's, and at its peak more than 70 such factories were scattered around the county."
Environmental protection departments say small electroplating workshops are not capable of dealing with the pollution. As a result, the local government shut down many shops, and established three big plating centers.
Li Jiangshan, Party Secretary, Pingxiang County, Hebei Province, said, "All the electroplating factories have to do their work at the plating centers, which enables us to deal with the heavy metal pollution for all of them. The choice is you come here to further your business, or you shut down."
More than 30 plating factories have been included in the project. For those who have not participated, July 31st is the deadline to make such a choice.
Related stories
Editor:Zhang Jingya |Source: CNTV.CN