Watch Video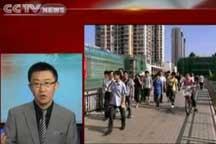 Play Video
For more insight on the change in China's population composition, we are joined in the studio by our current affairs commentator Professor Wu Xu.
More people in Henan than in Germany
1. Good evening Professor Wu. The population of central China's Henan province has reached 100 million. That's much more than the total number of people living in Germany. What's the first thing that crosses your mind when you see this headline?
Reflections on China's fast urbanization
2. And for the first time, there will be more urban dwellers than farmers in this country. We are living in an era of fast urbanization here in China, what kind of problems and chances lie ahead?
Related stories
Henan population reaches 100 million
The total population of central China's Henan province has reached one hundred million. It becomes the first province in the country to break the population mark.
Full Story>>
China's future population change
World Population Day has just passed and more attention is being given to population issues. According to the authorities, in the next five years, China's urban population is going to overtake the rural population for the first time.
Full Story>>
Experts: Building a population balance society
Recently, Chinese population experts have suggested building a population balanced society. A seminar was held at the weekend in Beijing for deeper discussions on the issue.
Full Story>>
Editor:Zhang Jingya |Source: CNTV.CN