Watch Video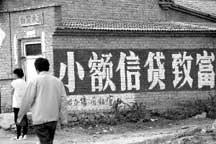 Play Video
Village banks and credit cooperatives are useful supplements to big financial institutions. But in Zhejiang province, they are not doing quite so well. Shen Le finds out why.
Yinao is a medium sized tea producer in Zhejiang. Last year it was in need of cash, so it turned to banks.
Xu Dengan, Deputy Gerneral Manager, Yinao Tea Co., Ltd., said, "We had nothing to pledge, so most banks wouldn't handle our request."
Not ready to give up straight away, Xu tried his luck at the newly opened village bank. By asking for a warrant from a business partner, Xu finally got his loan.
It may have turned out well for Xu, but not so much for the village bank.
Ye Jianyong, President, Jianxin Village Bank, said, "We're desperately short of capital due to our poor network."
The small number of outlets means that village banks are much less convenient than big banks. And that has stopped them from attracting cash deposits from residents. To make matters even worse, money cannot be transferred from other financial institutions to village banks.
Operating as stand-alone units, most village banks in Zhejiang have lent all their money. That means no new loans will be issued until older ones are written off.
Editor:Zhang Jingya |Source: CNTV.CN