Watch Video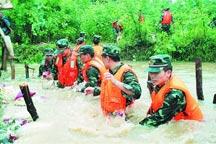 Play Video
Major efforts are being made to prevent Huanggai Lake on the provincial border between Hubei and Hunan from flooding. 110,000 people live near the 187,000 hectare body of water. Nearly four days of torrential rain have created a dangerous situation along its shores.
By Monday afternoon, the level of Huang-gai reached 29.5 meters -- just one meter below the top of its embankment. Though efforts were made to drain as much water as possible into the Yangze River river, the steady rain lifts the lake level by 20 centimeters a day.
In order to safeguard people's lives the government is increasing the entire 87 kilometer lake bank to 31 meters.
Vice mayor Xu Yong said, "Water level has increased by 20 centimeters in the recent 24 hours. Only 62 centimeters to go to reach the record high."
The 13.5 kilometer long shoreline in Guang-ping village is the most crucial part of the lake. Hundreds of local villagers are consolidating the bank with sand-bags.
In the evening, soldiers arrive and start working on the bank. They form a human chain to carry the more 40 kilogram bags to the lake's edge. The soldiers carried more than two-hundred bags in about half an hour.
Liu Xin, leader of military rescue team, said, "We have more than 800 soldiers here to consolidate the bank. Our target is to lift the bank level from 29.5 meters to 31 meters."
Throughout night, the shore of Huang-gai lake was illuminated. Every 50 meters' was a group of soldiers working to consolidate the bank.
Editor:Zhang Ning |Source: CNTV