Watch Video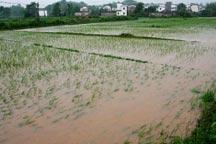 Play Video
Jianli County in Hubei Province is China's top rice producing region. However, record rainfall has caused severe flooding in the area, seriously damaging tens of thousands of hectares of rice fields.
Getting into Jianli county by boat, you can't tell where the roads are, which is a pond or a rice field.
Everything is flooded.
Wang Jiwen, farmer of Jianli County, said, "Look at this, it's rice, it used to be the rice field. "
Although rice grows in water, if the entire rice plant is submerged, the result will be disastrous.
Wang Pingbo, local official of Jianli County, Hubei Province,said, "If the water is not drained within one or two days, the production of rice will be dramatically reduced. "
Currently, over 80,000 hectares of rice fields sit under flood waters.
Houses and ponds have also shared the same fate as flooded cropland.
Boats are the only means of transportation. Now you can get to the pond directly from the river.
Wang Jiwen said, "This is the pond of yellow eels. I bought them at 27.28 yuan for half a kilo. This is 200 boxes, each 15 kilo grams, 900 yuan. They are gone, I've lost over 100 thousand yuan. And my crabs, its the same, all flooded. "
To reduce losses, some pond owners extended their net barriers.
But rice fields are very difficult to save.
Xu Jinpu, deputy county head of Jianli County, Huvbei Province,said, "The biggest challenge we face, is that there is too much rain and the flooded area is too large. The pumps we have can't drain the water out quickly enough. We are organizing farmers to do what they can to help themselves."
All the pumps in the county, big or small are running around the clock.
Officials said it would take the 10 thousands pumps 3 to 4 days to drain flood waters, making losses inevitable.
Editor:Zhang Ning |Source: CNTV