Watch Video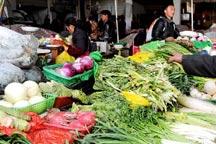 Play Video
In Wuhan, capital city of central China's Hubei Province, days of heavy rains have pushed up prices of vegetable and other food products.
With lakes and ponds flooded and difficulties with transportation, two thirds of the fish tanks in this market are empty.
A fish wholesaler said, "Continuous rain flooded the fish ponds, we can't get enough fish, the size and quantity are all down. "
With less fish in the market, prices naturally rise.
The sellers say prices of fish and crayfish have gone up by 10 to 20 percent.
Compared to fish, the cost of vegetables has risen even higher and much more quickly.
This wholesaler says, purchase and transportation prices have all gone up, and the vegetables are 40 or 50 percent higher.
A Wuhan resident said, "Some vegetables are too expensive for me, and the quality is bad."
Wuhan agriculture officials say they will encourage local farmers get more vegetables to market. At the same time they will ask wholesalers to bring in more supplies from other provinces.
Editor:Zhang Ning |Source: CNTV