Watch Video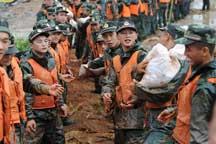 Play Video
Debris from the broken dam in Tong-cheng has worsened flooding in east China's Anhui Province. The military eased rising water levels of a major river by blowing up a build-up of debris.
Continuous rain in Tongcheng has made the Dasha River's current stronger than ever. The raging torrent was so powerful that it caused part of a dam in Qingcao village to break last week. Debris from the broken dam then choked the river, causing water levels to surge from 40 meters to almost 100 meters.
To unblock the river and ease water levels, a demolition squad used dynamite to blow up the the debris. The scheduled time was 4:30pm on Tuesday.
But as the demolition squad made preparations for the detonation, the river's water level hit its peak. The explosive's fuse was swept away in the current.
With soldiers' safety at risk, the squad was forced to call it a day.
Next morning on Wednesday, the weather was clear prompting the head of the demolition squad push ahead with detonation plans.
Wang Shile, Head of the PLA Bomb Squad, said, "We checked the explosive and river this morning. We decided to take action because of the favorable conditions."
Just before 9am, the debris was demolished.
The river's water level dropped rapidly following the explosion. Less than an hour after the blast, the water fell 10 centimeters.
The remainder of the dam is used for locals' drinking water. It won't be demolished unless water levels continue rising.
Editor:Zhang Jingya |Source: CNTV.cn