Watch Video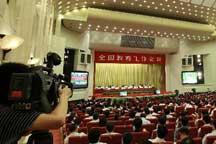 Play Video
A work conference on education has just concluded in Beijing. It's the 4th meeting after it was first held 11 years ago. Deputy provincial heads, education chiefs and school teachers witnessed the release of a long term education plan called The General Guideline for the Planning of Education Reform and Development.
President Hu Jintao, Premier Wenjiabao and other senior CPC officials attended the conference.
Hu Jintao says education is the country's foundation. He reviewed achievements made in the past three decades. He also stresses the importance of cultivating educated individuals, equality in education and educators' professionalism.
President Hu says the government will strive to provide people with a satisfying educational services and build a well-educated class of people to build the country. He asks local governments to implement the long-term plan in order to achieve the national goal.
In his speech, Premier Wen elaborates on the detailed objectives included in the plan. By 2012, government expenditures on education will account for 4 percent of Gross National Product. More investment will go to rural education. National education subsidies will be expanded to cover more students in need. Compulsory education will be better carried out to ensure migrant workers' children can receive consistent education.
Moreover, the government will give more autonomy to schools and provide better policy support. This is to encourage innovation at higher learning institutions and stimulate healthier competition among education organizations.
Related stories
Editor:Zhang Jingya |Source: CNTV.cn