Watch Video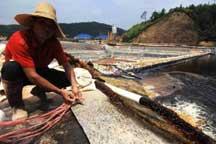 Play Video
Zijin Mining, China's largest gold producer, has shut down a copper smelter in East China's Fujian province after it spilled acidic water into a river. The company says it will make an investigation into the incident and pay for the local villagers' losses.
The spill happened on July 3rd.
More than nine-thousand cubic meters of waste water penetrated a sewage tank and flowed through a drainage culvert into the Tingjiang River. The waterway was severely contaminated, and thousands of fish died in Shanghang county of Fujian Province.
The local government promptly set up eight water quality monitoring stations along the Tingjiang River. On Tuesday, it declared the water safe for human use.
However, many of the 60-thousand people whose water sources were affected say they still fear drinking the water. They have resorted to well water, but some worry that even groundwater is no longer safe.
The company says it will compensate fish farmers for their losses -- estimated at about five million yuan. Zijin has suspended production at the mine and will only resume work after checks by local environmental authorities.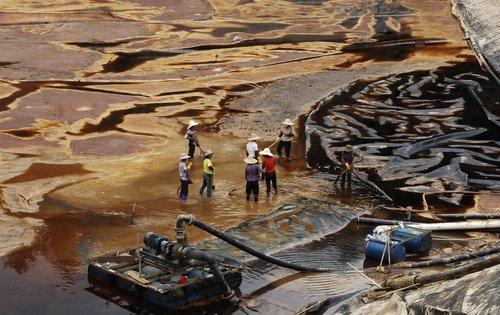 Workers dispose of acidic copper wastewater at a sewage pit in Zijinshan bio-
hydrometallurgical copper plant of Zijin Mining Group, Shanghang county, East
China's Fujian province, July 13, 2010. The leak of 9,100 cbm of acidic water has
plagued Tingjiang, a major river in eastern Fujian and is shedding light on the
fragility of China's ecological system due to accelerated industrialization.
[Photo/CFP]