Watch Video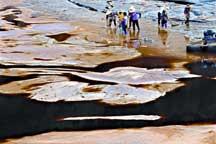 Play Video
Zijin Mining has been asked to suspend trading its shares due to its nine-day delay in disclosing an accident to investors in Hong Kong and Shanghai. Trading resumed on Tuesday, but experts warn that its prospects are not optimistic. This is not the first time Zijin Mining had such pollution problems.
Zijin Mining didn't report an accident to the public until it was exposed by the media nine days later.
Despite the public's criticism, the company has its own version of events.
Zheng Yuqiang, Secretary, Zijin Mining Board of Directors, said, "We have reported it within a certain range. And we mainly focused on solving the emergency and eliminating potential danger. We will pay for what we have to after the investigation is done. It's too early to define the costs."
Zijin Mining has been guilty of pollution problems several times.
In May, the company was among eleven who were warned by the National Environmental Protection Ministry for not having sufficiently solved environmental problems. The ministry said that the environmental problems with these companies would lead to potential danger, contamination of the environment and harm the interest of investors.
In April 2009, one of the mining branches of Zijin in Hebei Province had another water leakage. A few months later local environmental authorities received two letters complaining that the water around the Zijin mining area was severely polluted.
Back in 2007, Zijin was among ten enterprises that didn't pass friendly environment standards.
Related stories
Editor:Zhang Jingya |Source: CNTV.cn