Watch Video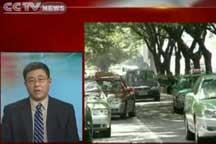 Play Video
Let's take a closer look at the issue of safety and civility for drivers. We're joined in the studio by our current affairs commentator, Professor Hua Shiping.
Appropriate punishment for driver
1. Good evening Professor Hua. This is a tragic story. But it seems both the driver and pedastrians should not be blamed as they were both on their lanes. What do you think of the verdict however, making the driver do social work such as help direct traffic?
Fallacies in road rules
2. Essentially it comes down to who has the right of way. It's shared by both drivers and pedestrians. However, people and bicycles are no match for vehicles. How do we prevent these tragedies?
Editor:Zhang Jingya |Source: CNTV.cn