Watch Video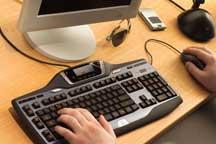 Play Video
Mengru Shenji used to be the No. 1 signatory writer of qidian.com, the biggest web-site for Internet literature. His work, Yangshen, has been clicked on more than 40 million and has been lingering at top of rankings list for eight months. However, in July this year, he had a falling out with qidian.com and left their service, even at the cost 300 thousand yuan in remuneration.
Including Mengru Shenji, five of the top 20 writers of qidian.com also quit their job. Many of them found contract items offered by their former employer unfair.
An internet writer Wu Zui said, There is an item I think is most unacceptable. According to the item, the web-site entrusted me to write the novels, which means that my ideas, the stories, everything, even my pen name actually belong to the company. The company draws up all the rules.
The contract also rules that writers shall not contact other publishers about their new works. If a writer violates the rule, he will be punished in a way that is devastating to his career.
Another internet writer Meng Ru Shen Ji said, If a writer is found contacting other publishers without permission from qidian.com, he will find his ranking on the list suddenly nose-dive 20 to 30 percent. And his earning will be down from 30 thousand yuan to only ten thousand yuan for that month.
Rankings on the list are based on clicks, but Internet writer Wu Zui says the number of clicks can be manipulated. Specialized software has been designed for increasing clicks and the software is now in wide use.
Because of what these authors call unfair rules, the companies have a firm grip on their writers. Once a writer is in confrontation with a company, his work will very probably be blocked from the public.
Experts in the field say the unfair hidden rules dampen writers' enthusiasm for creation and it will further suppress the development of the industry.
Related stories
Editor:Zhang Jingya |Source: CNTV.cn