Watch Video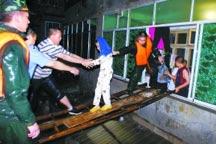 Play Video
Days of torrential rains have caused floods in many parts of east China's Anhui Province. In the city of Anqing, 12,000 homes were submerged by floods up to three meters deep early Tuesday morning. Meng Lingqi takes a look at how rescue efforts are progressing.
Anqing has experienced its heaviest rainstorms in a century over the past several days.
The city's roads have been turned into rivers, with many homes and buildings waterlogged.
The situation at this community, called "Garden Development", was the most serious.
Armed police mobilized a rescue team to evacuate trapped residents and bring food and water to those stranded on higher floors.
A trapped resident of Garden Development, Anqing, said, "We were very afraid, but we knew rescuers would come to help us. "
A trapped resident of Garden Development, Anqing, said, "We have no electricity nor water and cannot make dinner. The armed police arrived just in time."
Floods started to recede on Thursday as rain stopped.
Some residents returned home to salvage their belongings.
65-year old Ms. Wang was trapped at home suffering from back pains. Fortunately, armed police came to her aid.
The rescuers helped her gather personal belongings, then return to her daughter's home.
Some residents living on higher floors of the apartment complex stayed put. Rescuers brought them cooked food to ensure they wouldn't go hungry.
Meanwhile, firefighters worked tirelessly to pump out flood waters in between intermittent rain.
Armed police Gao Jinsheng said, "Forecasters say there will be be more rain later today and tomorrow. If it is heavy, the water level could go rise even further."
Armed police have prepared six boats with 50 soldiers to continue rescue operations if needed.
Editor:Zhang Ning |Source: CNTV