Watch Video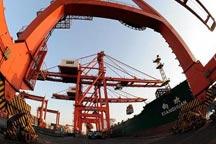 Play Video
China's economy slowed in the second quarter. According to figures from the National Bureau of Statistics, economic growth was a little more than 10 percent. Slightly lower than the 11 percent reached in the first quarter. But NBS officials are confident the economy performed generally well in the first half and developed according to the government's macro adjustment and control.
China's economic growth slowed in the second quarter to 10.3 percent from the previous year. It grew at an explosive 11.9 percent in the first quarter.
Factory growth slowed to 13.7 percent in the year till June, below forecasts of 15.3 percent and May's 16.5 percent growth.
Year-to-date investment in fixed-assets such as housing and factories also slowed, growing 25.5 percent from the same period a year ago after a 25.9 percent rise in May.
Inflation worries have eased. June's consumer price inflation fell to 2.9 percent from a year earlier, falling back below the government target of 3 percent for the year after prices rose 3.1 percent in May.
Domestic consumption was resilient, though annual retail sales growth eased to 18.3 percent in June from 18.7 percent in May.
The economic data confirms market expectations that China's economic growth slowed but officials say the country's economy is still on track.
Sheng Laiyun, spokesman of National Bureau of Statistics, said, "The slowdown, which the government has expected, will benefit the economy because it will prevent it from growing too fast and overheating. Despite the decline, economic growth is still very high, and within the target range."
Officials say lower growth would also help boost domestic consumption and reduce reliance on resource-intensive investment and exports to drive growth.
The government's growth target for the year is 8 percent. Many believe this can be achieved.
Related stories
Editor:Zhang Ning |Source: CNTV