Watch Video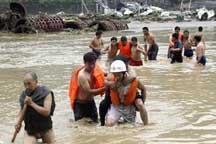 Play Video
Torrential rain along the Yangtze River basin has triggered water levels to surge in the region's main rivers, lakes and reservoirs. Meng Lingqi looks at how local residents are coping amid the heightened flood risk.
In Duchang County, northern Jiangxi, a malfunction of the shutter of a local reservoir caused some 2 million cubic meters of water to gush out on Wednesday.
Many surrounding villages and farmlands were flooded, forcing more than 4,000 residents to be evacuated.
Wang Xiuying, Local Resident, said, "I woke up at 4am to discover all our clothes, cotton and grain crops and oil were all flushed away. Nothing was spared, but fortunately we were evacuated."
The state disaster relief headquarters teamed up with the local government to immediately mobilize rescue crews.
Residents worked alongside armed police to reinforce the dam with rocks.
Technicians were also brought in to repair the shutter of the reservoir.
As the water level rises in the Chang River, bore water has seeped from underground to the surface nearby its lower reaches.
This is the protection barrier of Chang River in Poyang County.
Soldiers and locals used sandbags to seal off an area where groundwater was flowing unabated.
Liu Guangbao, Local Official, Poyang, said, "If the gushing bore water is not contained within five to six hours, it could cause a hole to form near the river and result in a major breach."
Zhang Tao, Stateoned Army Officer, said, "Soldiers have been working since 4.30 am, without sleep or rest and eating only simple food. But the situation is now under control."
Over 200 dangerous areas like this were found. Troops from the Nanjing military barracks will join soldiers already in Duchang County to bolster relief efforts.