Watch Video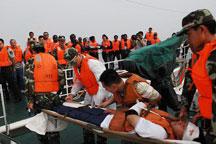 Play Video
Torrential rain in east China caused the water level of a reservoir in Kandi County, Zhejiang Province to surge suddenly. Firefighters have rescued 18 people who were in danger.
The 18 people including seven children were stuck in the middle of the reservoir, huddling together. About twenty meters behind them was the dike.
14 firefighters immediately rushed to the scene and worked out a rescue strategy.
Two firefighters stepped into the water, inching forward. A seven-year-old boy was trembling with cold and fear. Firefighters decided to rescue him first.
When the firefighters were about to go back for the third time the stream was flowing more rapidly and the water level was rising. Rescue staff then changed their strategy. They split into groups of three and went into the water, rescuing three people at each time.
A survivor said, We were playing in the water. The water just suddenly rose up. There were stones in the riverbed. There was no way we could make it to the shore by ourselves.
At dusk the water level was still rising. People were getting impatient. Firefighters had to change their plan again. The group of people waded across to the shore slowly.
After half an hour, all 18 people were rescued.
Editor:Zhang Jingya |Source: CNTV.cn