Watch Video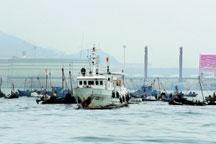 Play Video
It's been three days since oil pipelines at a busy port exploded in Dalian, a coastal city in northeast China. The fire has been extinguished and firefighters are still checking the oil tanks and pipelines at the port to prevent any potential of another fire.
The oil from the leaking tank has been burned off over the past couple of days. To avoid any possibility of it catching fire again, firefighters are continuing to cool the tank down.
Cong Shuyin, firefighter, said, "Temperature is high in the summer, and the fire made it even hotter. Some of the oil has reached its burning point, something we are keeping a close eye on. Our work is very tough."
Fire engulfed the harbor Friday evening after a blast occured in an oil pipeline and triggered an adjacent pipeline to explode as well.
The fumes from the explosion can be detected 20 kilometers away. Local environmental protection authorities have set up more than 20 air monitoring stations. The data shows the pollution in the air is minimal and will be dispersed soon.
Wu Guogong, Deputy Chief, Dailian Environmental Protection Bureau, said, "Currently the air quality is basically normal according to China's standards, and will not affect people's health much."
However because of the spill, there has been a severe environmental impact to the harbour and the nearby beaches.Environmental protection departments organized a cleaning team to minimize the pollution.
Related stories
Editor:Zhang Jingya |Source: CNTV.cn