Watch Video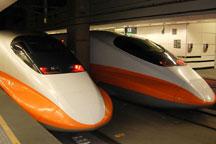 Play Video
Construction workers are laying tracks for a high speed railway linking Beijing and Shanghai. Once completed, the bullet trains will traverse a distance of 13 hundred kilometers in a staggering 4 hours. Currently, the same trip by train takes roughly 10 hours.
It'll be the world's longest and fastest railway.
The Beijing-Shanghai high speed railway will start from Beijing's south train station and go all the way to Shanghai's Hongqiao transportation hub. 21 stations are along the 1,318 kilometer-long route. It will benefit more than a quarter of China's population. The trains are designed to travel at a maximum speed of 380 kilometers per hour, faster than a passenger plane during take off.
Being No.1 in the world of engineering requires human ingenuity at its best.
For example, this railway bridge in Hebei province extends 128 meters, the longest of its kind ever built to allow trains travel at 350 kilometers per hour. Building it won't be an easy task.
Du Wanying, Project Manager, China Railway Construction Corporation, said, "We've worked with a research institute and used super computers to calculate the mass and structure of the bridge. This has ensured the error of measurement is contained to within one centimeter."
Workers are laying the track at a rate of 12 kilometers per day. An initial trial run will start by March 2011. It will serve up to 160 million people per year. The current passenger railway between Beijing and Shanghai will be used to transport cargo.
Editor:Zhang Jingya |Source: CNTV.cn