Watch Video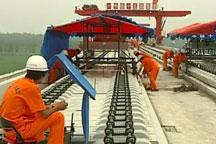 Play Video
Zaozhuang city lies on the south of China's Shandong Province. As the arterial Beijing to Shanghai High-Speed Railway is to run through the city, local residents are expecting a boost in the local economy.
This is the newly built Bus Rapid Transit, or BRT, connecting downtown Zaozhuang and the high-speed railway station. Zaozhuang is the second city after Jinan, capital of Shandong Province to have BRTs.
Niu Jiatang, Director-General, Bureau of Transportation, Zaozhuang, said, The BRT is able to bring people from urban areas to the railway station in a short time. It's very convenient. At the same time, it helps the high-speed railway to function better. I believe the high-speed railway will help boost our local economy.
The BRT is not the only project that works in conjunction with the Beijing-Shanghai Railway. The Zaozhuang government has unveiled its plan to build a railway and an expressway connecting nearby Linyi city so more places can benefit from the new artery. This 20-billion-yuan project is just a part of Shandong's ambitious blueprint to advance its local infrastructure.
The ongoing high-speed railway construction is injecting huge amounts of money into the construction industry along the line.
Xi Zhongwei, Vice General-Manager, China Railway 15 Bureau Group Corp., said, Since we started laying railway track 720 tons of rails are being used every day. It's obvious that the construction industry will boost domestic consumption.
Investment in the Beijing-Shanghai High-Speed Railway reached about 64 billion yuan in 2009 alone, which will fuel the demand of more than 2 million tons of steel products, 12 million tons of cement and create 600 thousand jobs. Experts estimate that the construction of the railway will increase domestic consumption by 12 trillion yuan.
Editor:Zhang Jingya |Source: CNTV.cn