Watch Video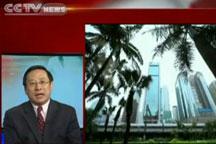 Play Video
While China's famed CRH bullet trains have reduced distances by cutting travel time between top cities, they could end up becoming white elephants. That's because fewer people want to take them due to high ticket rates. For more analysis on that, we are joined in the studio by our current affairs commentator Dr. Gao Zhikai.
Will CRH trains become white elephant?
1. Good evening Dr. Gao. There are reports that the public is concerned about high ticket prices when it comes to high-speed trains. For example, to travel on the newly launched high-speed railway between Shanghai and Nanjing, a passenger has to pay twice as much as taking an express train, which travels at 200 kilometers per hour. Would you pay twice as much for less than twice the speed? And do you worry these high-speed trains may become white elephants?
Economic impact of high-speed railways?
2. The current high-speed railway construction scheme dwarves similar systems in other countries. It's going to generate colossal demand for building materials such as steel and cement. How do you analyze the economic impact of the high-speed railway scheme?
Related stories
Editor:Zhang Jingya |Source: CNTV.cn