Watch Video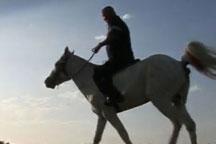 Play Video
The Third Horse Racing Competition has just concluded in Inner Mongolia. Paul Crowe takes us to meet one of the top riders in the contest.
65-year-old Wuli is one of the best horse riders in Kerqin, Inner Mongolia. He has his own distinctive and highly skillful riding style.
Wuli is a household name in Kerqin. He has been herding horses since he was nine. When he was 46, he started to appear in various horse racing contests. Wuli soon rose to fame and was crowned the King of Horse Riding.
Wuli said, I attend about 15 contests every year and I feel good about it.
Wuli's whole family came to support him in the contest. He ranked second in both the 2000 and 5000-meter race. Given that he's up against much younger competitors, this is quite a success.
Editor:Zhang Jingya |Source: CNTV.cn