Watch Video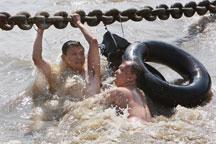 Play Video
The flood situation in Chongqing has eased, but some residents are still quite curious about the flood crest. Many crossed the safety lines to view the flood and didn't realize the danger involved.
The flood peak went though Chaotianmen on Monday night, but there are still many people in dangerous areas.
A Chongqing resident said, "It's hard to see. It's my first time to see it. "
On Monday morning, many people were approaching the dangerous waters, even though a safety line had been set up. Some were taking pictures of the water. Others even stood on the guard rail.
Another resident said, "I know it's dangerous. I just stood beside the water. "
On Sunday morning, 2 people were found floating in the flood waters. Rescue efforts began immediately, but the reaction of the 2 people were surprising.
Mrs. Peng, Patrol Member of Yangtse River, said, "They told us they didn't need any help. They said they are amateur swimmers and wanted to float in the flood waters. We were quite shocked. "
A witness said, "They treat their lives as a trifling matter."
Witnesses all said their actions were reckless and should be stopped.
Local authorities warn residents to stand behind the caution line and stay away from danger.
[Yin Xiang Reports] Are basic facilities working in Sichuan?
For more on the situation in southwest China's Sichuan Province, we are now joined by our CCTV reporter Yin Xiang. He has just arrived at a village in one of the country's worst flooded areas, Dazhou.
Full Story>>
Editor:Zhang Jingya |Source: CNTV.cn