Watch Video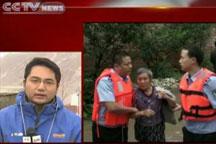 Play Video
[News Recap]
Cautious! Floodwaters remain dangerous
The flood situation in Chongqing has eased, but some residents are still quite curious about the flood crest. Many crossed the safety lines to view the flood and didn't realize the danger involved. Full Story>>
---------------------------------------------------------------------------
For more on the situation in southwest China's Sichuan Province, we are now joined by our CCTV reporter Yin Xiang. He has just arrived at a village in one of the country's worst flooded areas, Dazhou.
How are locals dealing?
1. Good evening Yin Xiang, what's the weather like in Dazhou, and are the locals having any difficulty in finding a place to stay?
Are basic facilities working?
2. It's reported that facilities for the power supply and for drinking water were destroyed. Are they available now?
Editor:Zhang Jingya |Source: CNTV.cn