Watch Video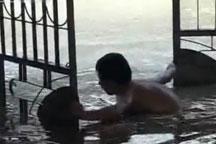 Play Video
In China's northwestern province of Sha'anxi, floods and landslides caused by torrential rains have left at least 41 people dead and 107 others missing. Many were trapped by rising water, including patients at a hospital.
It was very tense situation at a hospital in Xunyang County, Sha'anxi province. The facility was in one of the areas worst hit by the flooding. Rising water filled the building, submerging medicine and medical equipment and trapping patients inside.
Jiang Ming, Vice President, TCM Hospital, Xuyang County, Shaanxi, said, "The hospital became an isolated island, surrounded by water. They couldn't get in, while we couldn't get out."
Some patients were awaiting urgent surgery, but electricity and the building's supply of clean water had been cut. The lack of food for the more than 250 people was another big problem.
A patient said, "The flood surrounded the building. We were nervous, afraid, worrying about the shortage of food and drinking water, as well as the fact that operations were impossible."
The flooded area around the hospital stretched for more than a kilometer.
Ma Zhizhong, local official, said, "The debris in the water makes it hard for our boats to get through."
As the hours passed, food and drinking water became urgently needed by the patients. Soldiers started to push debris out of the way by hand to allow boats to bring in supplies.
Liu Huaming, President, TCM Hospital, said, "None of the patients in the hospital has suffered as a result of the incident."
Heavy rain ravaged 22 counties in three cities in Sha'anxi province since last Friday.
By Tuesday afternoon, more than 27-thousand houses were destroyed, and one-hundred thousand hectares of farmland were flooded. Direct economic losses are estimated at nearly 2.5 billion yuan.
Editor:Zhang Jingya |Source: CNTV.cn