Watch Video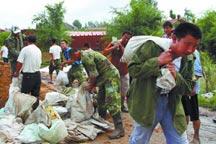 Play Video
Northeastern China's Liaoning Province experienced its heaviest rainfall in 16 years the past two days. Floods have forced more than 7,000 people from their homes. The heavy rains also forced a breach to a river bank in Tieling County.
Tuesday and Wednesday's rainfall was the heaviest in Tieling County in a century.
Early Wednesday morning, flood water rushed out of a breach 20 meters long.
Some villagers' homes were flooded. More than 3000 villagers were evacuated.
A CCTV crew on their way to report on the bank breach witnessed a rescue operation.
A motorcyclist was washed away from a bridge by rushing water.
Another man ran to rescue him but the current was too fast. He was also washed into a corn field, where the water was two meters deep.
A lifeline was quickly put together using a safety belt from a vehicle, a fish net and grass ropes.
Another local resident volunteered to pass the lifeline to the trapped people.
The motorcyclist was saved first. The rescuer was also pulled to safety.
Floods cut off many roads and bridges in Tieling, making it very hard to get rescue equipment in.
To repair the breach, 300 rescuers were forced to carry sandbags.
The breach was sealed Thursday evening.
Editor:Zhang Ning |Source: CNTV