Watch Video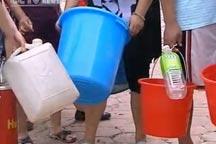 Play Video
Xinmin has been one of the cities hardest hit by torrential rain in northeast China's Liaoning Province. Water supplies have been restored to the city's residents, after a flood nearly two meters high ravaged the local waterworks.
Xinmin has been left reeling by its heaviest rainfall in nearly 60 years. Once busy roads have now been turned into rivers.
This bridge was once teeming with traffic, but vehicles are now rarely seen.
Flood waters are nearly waist-high.
A local resident said, "I'm looking for my car's license plate. Yesterday's rain was so heavy that I lost the plate here."
In a cruel, ironic twist, the heavy rain cut water supplies to more than 130,000 residents for over 24 hours.
Floods overflowed the Xinmin waterworks, forcing the city's water supply to be suspended on Tuesday evening.
Residents formed long queues at this store to receive groundwater.
A local resident said, "If it wasn't for this store's free water, we wouldn't have water to use and cook dinner."
A local resident said, "We need water urgently. Without water we can't eat, or flush the toilet. It'll be a mess."
The deluge caused unprecedented damage to the city's main supply of water.
Xu Dezheng, deputy head of Xinmin Waterworks, said, "I've never seen such heavy rain and floods. The lowest flood waters are above 50 centimeters. The flood peak within the waterworks is almost two meters high, We cannot use any of the equipment."
The local government responded to the flooded waterworks and service resumed on Wednesday night.

Editor:Zhang Ning |Source: CNTV