Watch Video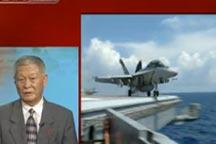 Play Video
China: Drills could worsen already tense situation on Korean peninsular
The US and South Korea plan to have a four-day joint military exercise off South Korea's eastern coast later this month. China has expressed concern over the exercise as it warns the drills could worsen the already tense situation on the peninsular. Full Story>>
Studio interview: Military drill dangerous to regional security
For further analysis we are joined on the line by our current affairs commentator, Gregory Yingnien Tsang.
Q1. A large-scale joint military drill between the US and the South Korea will begin soon. Officials from the Democratic People's Republic of Korea warn this exercise will pose a major security threat to the region. Do you agree?
Q2. The DPRK says it wants a return to stalled six-way talks with regional powers on its nuclear program. It is urging Seoul and Washington to take the lead in creating conditions for resuming negotiations. Do you think the concerned parties will agree to go back to the negotiating table?
Editor:Zhang Ning |Source: CNTV