Watch Video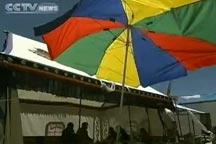 Play Video
Tibetan farmers and herdsmen who have lived in new homes since the Housing Project began in 2006, are now becoming experts at their business. Some of them are planting vegetables and fruits to earn a better living, and others are involved in other related businesses or in transportation. Zhou Xiran tells us how their lives have improved over the past few years.
Dawa Tsering started his own Tsampa Company in Lhasa 6 years ago, with yearly production of the Tibetan staple food amounting to 7.5 million kilograms. The company does not only sell their Tsampa products to Lhasa, Nagqu, Xigaze and other places in the autonomous region, but also to Nepal, earning a net profit of roughly 7 million yuan every year.
Dawa Tsering, Gen. Manager of Tsampa Company, said, "We employed more than 300 local farmers. And every one of them has an annual income of nearly 20-thousand yuan. Our way to a well-off life is due to the preferential policies of the Communist party of China."
Dawa hasn't forgotten his colleagues. Since 2006, he has provided his employees with interest-free loans to build their own new homes.
A worker of Tsampa Company said, "I built my own house in 2008, investing a total of 180,000 yuan. But the local government has provided us with more than 22,000. And with loans from our company, it only cost us 70-thousand yuan. "
Also in Lhasa, more than 100 local residents are planting vegetables and fruit to earn a living. Every year, a single greenhouse can yield a profit of more than 10,000 yuan.
Following the housing project, a richer life can be seen among local Tibetans.
Every year, a single greenhouse can yield a profit of more than
10,000 yuan.
Editor:Zhang Ning |Source: CNTV