Watch Video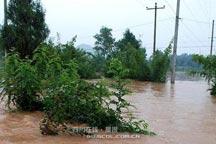 Play Video
Brutal rains have been pounding southwest China's Sichuan Province for two days, triggering severe floods.
At least 22 people have been killed and 21 are missing. Guanyuan city has been the hardest hit with at least 13 people killed and one person missing. Two more people were killed in Bazhong city, where 14 others remain missing. The water level of many rivers has been at or above danger levels. More than 29 roads have been blocked by landslides and other rain-triggered disasters.
Guangyuan city has suffered the most so far.
Jia-ling-jiang River, one of the major branches of the Yangtze River runs through the city. Its water level has surged nearly one meter above the danger line, with a flow rate of 74-hundred cubic meters per second. It is expected to reach an unprecedented 9-thousand cubic meters when the flood peak hits.
More than one million local residents have been affected by the rain. More than 66-thousand people living along the river and in low-lying lands have been transferred to safety. The local government has set up makeshift shelters. Food and other necessities have been organized.
The rain triggered more than ten landslides along the 212 National Highway. More than 5-thousand cars have been stranded, forming a 10-kilometer lineup of vehicles.
Mr. Jia's truck got stuck in the rocks and mud that suddenly rolled down. He recalled how frightened he was at the time.
A truck driver said, "My truck suddenly stalled here. It was raining then. I have never seen such heavy rain. I hopped off the truck to push it, but it didn't work. So I ran to a service station ahead. There was so much water on the ground that I couldn't even keep balance when standing there."
A team of more than 150 people have been mobilized for repair work. Authorities say the situation is now under control after four hours' work.
Editor:Zhang Ning |Source: CNTV