Watch Video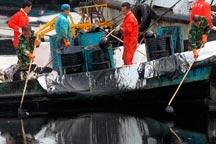 Play Video
After a week of cleanup efforts, the majority of the oil spilled in the northeast China port city of Dalian has been cleaned up.
Two pipelines exploded and spewed crude oil into the harbor on July 16th. The spill polluted 50 square-kilometers of the sea. Oil floated on the surface of the water, in some places it was 30 centimeters thick. Authorities have been making all-out efforts to contain the spill, mobilizing hundreds of fishing boats, specialized cleaning vessels, "oil-eating" bacteria and volunteers to reduce the environmental impact of the spill. Satellites, planes and vessels are also being used to inspect the oil's distribution. Cleanup work is progressing. There is only scattered oil left on the surface of the sea.
Dalian Deputy mayor Dai Yulin said, "The oil has not floated into international waters. The oil has not floated into the Bohai Sea either. The Bohai Sea's circulation is not well, so we have to prevent the oil from entering there."
Related stories
Editor:Zhang Ning |Source: CNTV