Watch Video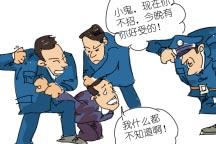 Play Video
The Ministry of Public Security has adopted several measures to prevent the abuse of power by police and protect the legal rights of suspects in custody.
One of these measures includes the opening of prisons to the public. So far, the Ministry has designated 150 prisons for public scrutiny.
The move also includes several policies adopted early this year to protect the rights of detained suspects and punish law enforcement officials who violate these rights.
According to these policies, the court will ignore testimony and evidence extracted through questionable means. It is believed this move will help deter police brutality.
Apart from that, Police staff responsible for torturing and humiliating detainees will be censured, demoted or dismissed depending on the severity of their actions. Prison guards guilty of neglecting their duty that result in the escape, mutilation or death of the detainee will receive similar penalties.
Editor:Zhang Ning |Source: CNTV