Watch Video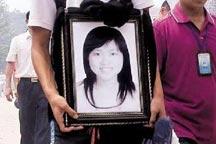 Play Video
A funeral has been held to commemorate a 20-year-old girl who lost her life in a mountainous village in Guizhou Province. She was spending her summer vacation there, voluntarily teaching local primary school students.
In the vast expanse of western China's underdeveloped regions, compulsory education is not gaining ground. To help, many college students voluntarily teach the children during vacations.
Zhao Xiaoting was one of them.
It was the second time she gave up the chance to be reunited with her family during the summer holidays, instead she joined her schoolmates to teach primary school students in the mountainous region of Guizhou Province.
Unfortunately, during research outside, Zhao was struck on the head by a rock rolling down a hill. The accident took her life instantly.
Back in Zhao's hometown in Jiangsu Province, her relatives and friends are shocked and distraught.
High school classmate Xue Minyuan said, "We got together during holidays. It's unbelievable that such a vivid life is gone all of a sudden."
Zhao was born in a village in Jiangsu Province and was the only child of the family. Her parents worked hard to support Zhao to further education in Wuhan University, one of the nation's top universities.
20-year-old Zhao Xiaoting voluntarily teaches local primary school students in
a mountainous village in Guizhou Province.