Watch Video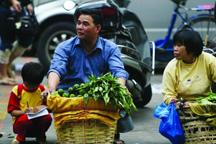 Play Video
A number of volunteers have set up a makeshift kindergarten to provide basic education to vendors' children at Beijing's Sihuan market. Even though there is a lack of proper facilities, the young volunteers are persisting to do the best job they can.
These young volunteers are students from Beijing Normal University and Capital Normal University.
At 8 o'clock every morning, they gather here and wait for the kids.
Come here and let me see your hands.
Not bad, they are really clean.
The vendors send their children to the volunteers and return to their stalls to work.
After that, the group of students volunteers and the kids go to an alley way to play games.
It all started in 2004 when Professor Zhang Yan from Beijing Normal University led her students on a field trip to Sihuan market.
It's where they found that vendors were too busy working to look after their children. So, Zhang Yan and her students decided to help.
The volunteers have provided free education for six years. More than 400 kids have graduated from this makeshift kindergarten. The parents are quite happy about their children's change.
My kids have learned good Mandarin.
If he did something wrong
he will say sorry.
That's not going to happen
if he had stayed in the countryside.
However, a string of school attacks targeting children has put tremendous pressure on the market administrators. As a result, they have decided to shut down the kindergarten inside the market indefinitely.
The volunteers are continuing their classes outside the market, but a lack of funding means they can't afford to rent a classroom.
Now, all they hope is to find a proper place for free before the rainy season comes.
Editor:Zhang Jingya |Source: CNTV.cn