Watch Video
Play Video
The death of female panda Quanquan has attracted many people's attention. The cause of her death last Thursday has been released at a press briefing: gas poisoning.
The briefing on Monday lasted just 10 minutes. A Spokesman for Jinan zoo in Shandong Province announced the cause of Quanquan's death.
Spokesman of Jinan Zoo said, "According to the results of the preliminary investigation, the cause of death was inhaling gas disinfectant from the gas exhaust pipe."
The panda was found poisoned at around 7 p.m last Thursday. Workers found toxic fumes had filled the panda house, and the panda had already been poisoned. It was transferred to the local veterinary hospital immediately. But the treatment failed after three hours.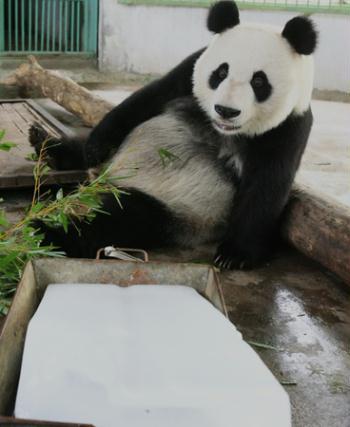 The giant panda Quan Quan cools herself sitting beside an
ice block in the Jinan Zoo on June 22, 2008. [China Daily]
He said, "The poisonous gas caused the panda to have an internal hemorrhage. It died from respiratory failure. "
An investigation showed that the gas was composed of chlorine, chlorine hydride and carbon monoxide. It came from a former air-raid shelter now used for storage, and leaked into the zoo's panda house through a ventilation pipe.
The female panda Quan Quan was a star at Jinan Zoo and a "heroic mother," giving birth to seven cubs.
Quan Quan arrived at Jinan zoo three years ago. Aged 21, equivalent of more than 70 years old of human life.
Related stories
Editor:Zhang Jingya |Source: CNTV.cn