Watch Video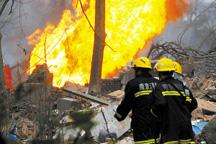 Play Video
A huge blast in an industrial facility in Nanjing, capital of Jiangsu province, has killed at least 12 people. The explosion resulted in a major fire.
At around half past 9 in the morning as workers were demolishing the Nanjing Plastic Factory Number 4, they ruptured an underground propylene pipeline. About 10 minutes later there was an explosion powerful enough to overturn cars on the street and destroy many houses nearby.
About two-hundred fire fighters were sent to the scene to fight the fire and evacuate local residents.
The Bureau of Work Safety says valve gates on the propylene pipelines have been closed and the situation is now generally under control.
Officials say the blast killed at least 12 people and injured more than one-hundred. Twenty-eight are in serious condition. The Bureau will work with local authorities to contain hot spots and prevent secondary disasters.
Related stories
Editor:Zhang Jingya |Source: CNTV.cn